Nancy Randleman, LCSW, Founder

Psychotherapist
Bilingual Spanish/English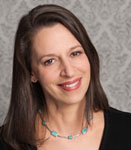 Nancy has worked in the mental health field for over 30 years in settings as diverse as youth and family services, child welfare, cancer support, hospice, and community mental health. She is bilingual in Spanish and English.  Since opening her private practice in 1991, she has developed expertise working with cancer patients, their families and in bereavement.  Nancy's insight meditation (vipassana) practice, which she has been doing since 1997, informs much of her work. At the heart of her approach is Nancy's deep respect for and interest in her clients' individual differences and the conditions that have helped shape their lives — cultural backgrounds, religious affiliations, sexual orientation, life experience, family history, medical history and personal challenges.  She works with clients beginning where they are, within the context of their background as well as their current situation, by listening first and helping them gain the clarity and perspective needed to problem solve.Whether working with individuals or couples, Nancy creates a safe space, where meaningful change can occur.  She helps clients tune into their self-awareness, shedding light on how their inner experience informs their ability to connect with others, get their needs met, achieve the changes they're looking for and, sometimes, accept and grieve the ones they cannot.
Clinical interests:  Individual adults and emerging adults and couples; Life challenges including cancer, chronic and life-limiting illness, loss, trauma, depression, anxiety,  military families.
Education and Training:
MSW, Jane Addams College of Social Work, 1989
BA, University of Wisconsin-Madison, Psychology & Spanish, 1984
Licensed Clinical Social Worker in the State of Illinois, 1991
Core Skills in EFT (Emotionally Focused Therapy) Couple Therapy, Advanced Level; working toward certification.
Appointment Hours:
Tuesday:  7:30am – 9:00pm
Wednesday:  3:00pm – 6:00pm
Thursday:  7:30am – 9:00pm
Friday:   7:30am – 6:00pm
Fees and Insurance:  $140 per hour, as of 9/01/15,  BCBS PPO Preferred Provider
Contact:  773.334.6160, ext 2
Email: nancy@ravenswoodtherapygroup.com